Introduction
The newly announced Optimus G Pro books LG a spot in the Android hall of fame. A quad-core Snapdragon 600 chipset, a 5.5" FullHD display and a 13MP camera is the right kind of ammo of a proper flagship. The bar has been consitently raised over the past few months and only this sort of specs can get you a pass into the exclusive club of uberphones.
The quad-core race is on for some time now, but display technology has been coming in leaps and bounds as well. Displays of 5+ inches in diagonal and 1080p resolution are all the rage now and we are seeing new models touting those cropping up every month.
Yesterday's flagships are demoted to runner-ups by this new breed of five-inchers. The LG Optimus G is one of the first victims in this arms race, outsmarted by the company's own Optimus G Pro.
But it's a cut-throat business and specs alone cannot guarantee strong sales. It takes a bit more than that. The stakes are high indeed, but the Optimus G Pro seems to have what it takes to make it through. We took one for a spin and are ready to let you in on all we managed to find out about it. But let's start with the spec sheet.
LG Optimus G Pro at a glance:
General: GSM 850/900/1800/1900 MHz; UMTS 1900/2100 MHz, HSDPA, HSUPA; LTE, 100Mbps down, 50Mbps up
Form factor: Touchscreen bar
Dimensions: 150.2 x 76.1 x 9.4 mm, 160 g
Display: 5.5" 16M-color FullHD (1080 x 1920 pixels) True HD-IPS+ LCD capacitive touchscreen
Chipset: Qualcomm APQ8064T Snapdragon 600
CPU: Quad-core 1.7GHz Krait 300 processor
GPU: Adreno 320
RAM: 2GB
OS: Android 4.1.2 (Jelly Bean)
Memory: 32 GB storage, microSD card slot
Still camera: 13 megapixel auto-focus camera with backlit sensor, face detection and Best faces feature, touch focus and image stabilization, HDR
Video camera: Full HD (1080p) video recording at 30fps, LED flash, HDR; 2.1MP front facing camera, video-calls, 1080p@30fps; dual video recording
Connectivity: Dual-band Wi-Fi a/b/g/n, Wi-Fi hotspot, Bluetooth 4.0, standard microUSB port with MHL features (TV Out, USB host), GPS receiver with A-GPS and GLONASS, 3.5mm audio jack, FM radio, NFC
Battery: 3140 mAh
Misc: Optimus UI, Extremely rich video/audio codec support, built-in accelerometer, multi-touch input, proximity sensor, gyroscope sensor, active noise cancellation with dedicated mic
The Optimus G Pro has one of the most powerful chipsets around and has an intriguing screen. It's both bigger and better than the one on the the Xperia Z and that's a clear message already. There is the sleek design too, the slim screen bezel and the Android Jelly Bean edition enhanced by numerous custom tweaks and eye-candy.
Display
The eye-catching 5.5" IPS display of Full HD resolution is definitely one of the LG Optimus G Pro's key selling points. LG is keen on making lots of noise about how the colors are rendered, pitting it against Samsung's AMOLED displays. Long story short, LG claims the Optimus G Pro's display shows 100% accurate colors, unlike AMOLED screens.
Of course, we took it for a test drive ourselves and we can safely confirm that the images indeed look great and colors pop, especially the reds. The display is impressively sharp too, thanks to the amazing pixel density of 400 ppi.
So, the screen junkies that we are, we decided to take out the Galaxy S III and put its Super AMOLED 720p screen next to the True HD-IPS+ 1080p LCD of the G Pro.
On paper these two screens are quite different. The LG smartphone has an LCD with a full RGB matrix, while the Galaxy S III uses Pentile AMOLED.
Pentile is old tech (we saw it on devices like the first Galaxy S) and doesn't feature the full set of subpixels - there's a full set of green pixels, but there are less red and blue pixels than a RGB matrix would have. Still, at 1280 x 720 resolution, the 4.8″ Super AMOLED has a pixel density of around 306, which just makes it to "Retina" territory.
Then we come to viewing angles and reflectivity. Samsung's device has the upper hand here with the typically superb Super AMOLED viewing angles.
The LG Optimus G Pro screen is more reflective and there is a contrast loss when you're looking at the screen at an angle. It's a minor thing though, and you really need to have a great example like we have here alongside it to notice the difference.
Overall, the LG Optimus G Pro display quality is about the same as on the Optimus G, but the sheer size difference makes it far more impressive. The extra sharpness and total resolution also contribute to what is certainly the best LG screen to date.
Design and build quality
The Optimus G Pro design language is pretty different from that of the Optimus G. The pattern on the back might be similar, but the overall look of the smartphone sits closer to the Galaxy S II than to its sibling.


LG Optimus G Pro
LG went for a full-plastic build for the Optimus G Pro, but still managed to deliver a premium, quality feel. The phone is agreeably heavy too - for a device of this size. The Optimus G Pro measures 150.2 x 76.1 x 9.4 mm and weighs 160 grams.
The build quality is solid and it doesn't give in to any bending or twisting even though it's quite big. The great build quality aside, we are also very pleased with how nice hardware key LG hasused on the Optimus G Pro.
The good news continue with the availability of a customizable shortcut button near the top of the left side. You can use it to quickly launch apps when the device is unlocked.
Above the display we find the usual gang - a centrally located earpiece, a proximity sensor and the secondary 2.1MP video-call camera right next to it. The LG Optimus G Pro supports dual-video recording, which means you are able to capture video with both cameras simultaneously.
The result is a single 1080p recording, which looks quite like a video call screen. The feed from the primary camera takes up the whole screen, while the feed from the secondary one appears in a small box in the bottom left corner. And the good thing is that you can actually swap which camera is primary, and which secondary.

The earpiece, the proximity sensor and the video-call camera
Below the display is the hardware Home key surrounded by Back and Menu capacitive touch keys. There is a nice LED status light below the Home key. It is highly customizable and lights up in different colors depending on the notification - incoming or missed calls, alarms, calendar reminders, apps, etc.
Android Jelly Bean meets Optimus UI
The LG Optimus G Pro is powered by Android 4.1.2 Jelly Bean with LG's Optimus UI garnish on top.
The custom launcher runs deep into Android and adds tones of customizations like themes, changeable icons and a slew of LG home-brew apps.
The Optimus G Pro is LG's first handset we meet running on Jelly Bean, but there are only few novelties compared to the ICS. Google Now is on board, the Project Butter gave a boost on the UI smoothness and frame rate, but that's mostly it. The rest is identical to the Optimus G Pro user experience.LG's cool lockscreen is on board - by default swiping a finger at any spot of the lockscreen creates a magnifying glass effect, showing you what's underneath as if you're looking through a rain drop. You can also place up to four shortcuts that will unlock the phone straight into an app.
You can change the lockscreen clock style or replace it all together with a different style. The four app shortcuts are customizable, too.
The bottom of the homescreen fits up to 7 shortcuts (including the shortcut to the App Drawer) and that's two more than what TouchWiz offers on the Samsung Galaxy S III. You don't have to use all available slots though - you can discard all but the App Drawer shortcut if you want.
As usual, the shortcuts are visible on any of the homescreen panes. With the exception of the app drawer shortcut, you can rearrange, delete or replace any of these with shortcuts of your choosing, even folders. In fact most aspects of the phone's behavior can be customized, you can go to as small detail as the capacitive key backlight and the transition effect between homescreen panes.
The LG home-backed tweaks and enhancements are by no means limited to the visuals. The Q Slide option makes it possible for you to watch a video while using other apps, while the system-wide QuickMemo integration allows you to take a screenshot anywhere in the phone and take notes over it.
You can resize widgets or you can even shrink a widget down to the corresponding app's icon. Also if you move a widget over an occupied slot on the homescreen, the icons underneath immediately move out of the way, which is really neat and comes as part of Jelly Bean.
Adding stuff to the homescreen is done by tapping and holding on a blank area of a homescreen. A context menu appears, allowing you to add various customizations to your phone. The tabs along the bottom let you select the appropriate app, widget or wallpaper, which you can add to the homescreen of your choice. Gridlines will appear when you hold and drag an app or widget, allowing you to easily place it on the homescreen.
If a certain icon isn't to your liking you can always change it to whatever you prefer. There's a wide choice of different icons and you can even choose to make one of your own.
The contextual menu is accessed the straightforward way - just hit the menu button. It gives you a quick access to a bunch of different settings menus as well as choosing a different theme.
LG has also enabled a ton of other customization to the the homescreen looks and behavior. There's a dedicated setting for looped homescreen scrolling and the so-called screen effect changes the transition effect between homescreen panes.
The notification area was also been tweaked by LG to allow you to rearrange the toggle buttons shown there. You are also free to add and remove toggles from the edit menu. You can add an insane amount of shortcuts here, but don't worry that they won't fit on the screen - the row becomes side-scrollable so you can still access them all.
As usual, if you've got a music track playing in the background, quick controls will show up here. You can also drag notifications to the left or right to dismiss them.
By default you get seven homescreens to fill up with widgets and shortcuts, but you are free to delete any that you don't need to speed up navigation. You can also set the default homescreen to any of the panes.
The task manager on hasn't changed a whole lot since ICS. It shows you all of the currently running apps, and lets you stop them by swiping them to the left or right. It is accessed by holding down on the hardware home button. There, you'll also find a shortcut to Google Now, a Jelly Bean exclusive.
Additionally, there are number of icons at the bottom, which allow you to quickly open up a particular app or even stop all apps simultaneously.
Finally, there's a shortcut to the task manager.
LG's task manager lists the currently running apps, but also lets you uninstall apps and gives you info on your storage. It comes with its own dedicated widget, which shows a graph of the available RAM and conveniently offers a button to clear up memory.
The app drawer lists all your available apps and widgets, with a dedicated tab for user downloads. There is a button in the top right corner, which triggers edit mode and lets you to easily reorder and uninstall applications.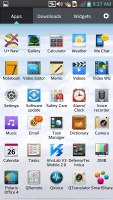 The app drawer menu
You can opt to make the icons in the app drawer smaller too. If you select an app whilst in edit mode, a pop up will let you see information like RAM usage, etc.
LG borrowed a trick from Samsung's TouchWiz and implemented its own version of Samsung's Smart Stay - called Wise screen. It uses the front-facing camera to detect if you're looking at the screen. This means you can browse the phone for hours on end without it auto-locking itself. We can confirm that the feature works very well.
Synthetic benchmarks
The LG Optimus G Pro boasts a Snapdragon 600 chipset with four Krait 300 cores clocked at 1.7GHz, 2GB of RAM and the Adreno 320 GPU. With specs like that you would expect the phablet to be a real benchmark champion and luckily it delivers.
The Optimus G Pro managed to top the Benchmark Pi and Linpack tests, which are meant to judge single and multi-core performance respectively.
Benchmark Pi
Lower is better
LG Optimus G Pro

147

Asus Padfone 2

262

Sony Xperia Z

264

Oppo Find 5

267

Sony Xperia T

269

HTC One X+

280

LG Optimus G

285

Samsung Galaxy Note II

305

HTC One X (Tegra 3)

330

LG Optimus 4X HD

350

Samsung Galaxy S III

359

Meizu MX 4-core

362

Nexus 4

431
Linpack
Higher is better
LG Optimus G Pro

743

Asus Padfone 2

623

Sony Xperia Z

630

LG Optimus G

608

Oppo Find 5

593

Samsung Galaxy Note II

214.3

Nexus 4

213.5

Meizu MX 4-core

189.1

HTC One X+

177.7

Samsung Galaxy S III

175.5

HTC One X

160.9

LG Optimus 4X HD

141.5
The 5.5" LG flagship had excellent performance in the two compound benchmarks we run, too. At Antutu it didn't quite manage to come on top, but it still posted a great score of over 20,000 points, while Quadrant saw the LG Optimus G Pro score another victo
ry.
AnTuTu
Higher is better
HTC One

22678

Sony Xperia Z

20794

LG Optimus G Pro

20056

Samsung Galaxy S III

15547

Oppo Find 5

15167

Huawei Ascend P2

13358

HTC Butterfly

12631
Quadrant
Higher is better
LG Optimus G Pro

12105

HTC One

11746

Sony Xperia Z

8075

HTC One X+

7632

LG Optimus G

7439

Oppo Find 5

7111

HTC One X

5952

Samsung Galaxy Note II

5916

Samsung Galaxy S III

5450

Meizu MX 4-core

5170

Huawei Ascend P2

4838

LG Optimus 4X HD

4814

Nexus 4

4567
SunSpider is all about pure JavaScript performance. Here, the Optimus G Pro only got a mid-table finish, but the truth is the difference is hard to perceive in real-life scenarios.
SunSpider
Lower is better
Samsung Ativ S

891

Apple iPhone 5

915

Nokia Lumia 920

910

Lenovo K900

962

Samsung Galaxy Note II

972

HTC One X+

1001

LG Optimus G Pro

1011

Motorola RAZR i XT890

1059

HTC One

1124

Samsung Galaxy S III

1192

Meizu MX 4-core

1312

LG Optimus G

1353

HTC Butterfly

1433

Sony Xperia Z

1906

Nexus 4

1971
Overall, the LG Optimus G Pro is an excellent performer with smooth UI navigation, extremely quick app launches and no lags whatsoever.